Ray Lawson graduated from Central State Teachers College (now Central Michigan University) in 1940. After his first year of teaching, he was inducted into the Army prior to Pearl Harbor. After his discharge from the Army in 1946, he taught English at Rochester High School for 63 years. Ray earned his Master of Arts degree from the University of Michigan and went on to do post-graduate work at Wayne State, Michigan State, and the University of Michigan. He became an Oakland Writing Project Fellow in 1982. To say that Ray was an active member of the Michigan Council of Teachers of English would be an understatement. He was a member for his entire teaching career, serving as Secretary/Treasurer of MCTE for a combined total of nearly 40 years.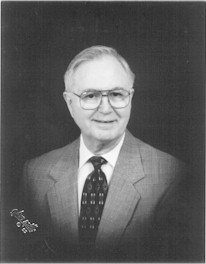 Ray H. Lawson.
Image from Rochester Community Schools.
The Michigan Council of Teachers of English awards the Ray Lawson Award to an outstanding MCTE educator who has demonstrated leadership to the profession and is held in high esteem by colleagues and students.
To be considered for the award, the ideal nominee…
demonstrates excellence in the teaching of English or Language Arts K-12.
has a record of distinguished leadership at the local and the state level.
has earned high admiration from colleagues and students.
holds unique and effective perspectives on teaching English/Language Arts.
has a minimum of ten years of teaching experience K-12.
The nominator is responsible for submitting the nominee's information and a brief statement describing why the nominee is deserving of the Ray Lawson Award.
Nominees may be recommended by colleagues from the local school district or an MCTE Representative. Before submitting a nomination, please check the requirements for the award.
Recipients will be recognized at the MCTE annual fall conference.
Click here to nominate a colleague for the Lawson Award.
Past Honorees
The MCTE introduced the Ray Lawson Award in 2002. Below are all past honorees.
| | |
| --- | --- |
| 2022 | No honoree |
| 2021 | Anna J. Small Roseboro, Retired |
| 2020 | No honoree |
| 2019 | Jim Kroll, L'Anse Creuse High School-North |
| 2018 | Dawn Reed, Okemos High School |
| 2017 | Kevin Ozar, Farmington Public Schools STEAM Academy |
| 2016 | Renee Webster, Perry Elementary School |
| 2015 | Jeff Garver, Boyne Falls Public Schools |
| 2014 | Glen Young, Petoskey High School |
| 2013 | Andrew Schoenborn, Mount Pleasant High School |
| 2012 | Janice McGeorge, Ottawa Elementary School (Petoskey) |
| 2011 | Stasha A. Simon, Petoskey High School |
| 2010 | Davena Jackson, Southfield High School |
| 2009 | Dan Polleys, Boyne City High School |
| 2008 | Toby Kahn-Loftus, Michigan Schools in the Middle, CMU |
| 2007 | Kathy Vogel, Northview Public Schools |
| 2006 | Mary Cox, Detroit Public Schools |
| 2005 | Janice Schmidt, Dearborn Schools |
| 2004 | Nancy Elliot, Ubly High School |
| 2003 | Ron Iwankovitsch, Ubly High School |
| 2002 | Ray H. Lawson, Rochester Schools |