Charles Carpenter Fries Award
Charles Carpenter Fries (1887-1967) was a distinguished professor of linguistics at the University of Michigan from 1920 to 1958. While at the University, he founded the English Language Institute and served as its director from 1941 to 1956. One aspect of his work in linguistics focused on the best means of teaching languages to native and non-native speakers. He authored Teaching and Learning English as a Foreign Language in 1945. Among his numerous professional leadership roles, Fries served as president of the National Council of Teachers of English in 1927-28.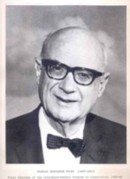 Charles Carpenter Fries.
Image from ELLO
The Michigan Council of Teachers of English awards the Charles Carpenter Fries Award to an outstanding English educator in recognition of his or her dedication to the profession and distinguished career towards the advancement of the teaching of English.
To be considered for the award, the ideal nominee…
demonstrates long and faithful service to the profession of English teaching.
has served in roles of distinguished leadership not only in his or her own community but also at the state and/or national level.
demonstrates inspirational qualities to students and colleagues.
is recognized for originality in some form, for having his or her own special stamp or way.
demonstrates academic superiority.
The nominator is responsible for submitting the nominee's information and a brief statement describing why the nominee is deserving of the Fries Award.
Nominees may be recommended by colleagues from the local school district or an MCTE representative. Before submitting a nomination, please check the requirements for the award.
Recipients will be recognized at the MCTE annual fall conference.
Click here to nominate a colleague for the Fries Award.
Past Honorees
The Charles Carpenter Fries Award, first given in 1967, is MCTE's longest-running award. Below are the honorees for the past ten years. The last link will open the list of all honorees for the Fries Award.
| | |
| --- | --- |
| 2022 | No honoree |
| 2021 | Mary Anna Kruch, Northern Michigan University |
| 2020 | No honoree |
| 2019 | Jonathan Bush, Western Michigan University |
| 2018 | Christine Vonder Haar, Ferris State University |
| 2017 | Mary Juzwik, Michigan State University |
| 2016 | Cathy Fleischer, Eastern Michigan University |
| 2015 | Kia Jane Richmond, Northern Michigan University |
| 2014 | Douglas Baker, Eastern Michigan University |
| 2013 | Allen Webb, Western Michigan University |
| 2012 | Fred Barton, Michigan State University |
| 2011 | Toby Kahn-Loftus, Western Michigan University |
| 2010 | Ladene Schoen, Wayne State University |
| 2009 | Jill Van Antwerp, Grand Valley State University |
| 2008 | Troy Hicks, Central Michigan University |
| 1967-2007 | Complete List of Honorees for the Fries Award |