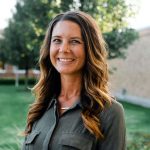 The Michigan Council of Teachers of English is pleased to announce that Dr. Sara Hoeve of Hope College has been elected as MCTE's next vice president. Hoeve spent more than ten years as a secondary English teacher before earning her Ph.D. in English Education at Western Michigan University. She joined the faculty of Hope College In 2020. In addition to her teaching at Hope College, she serves as the Director of Student Teaching & Teacher Certification for the college. Hoeve leverages her years of classroom experience and her background in educational research to build relationships with new and prospective teachers. In 2022, she and Dr. Susan Brondyk launched a new pilot program to provide university-based induction mentoring for alumni of Hope's education preparation program. 
In her letter of interest for the position of vice president, Hoeve talked about the value of professional organizations to her as a secondary teacher and now as a professor of English Education. She views professional organizations "as places to develop and share best practices and new understandings about our field, while also advocating for our teachers and students at the local, state and national levels." In her most recent research, Hoeve investigated attempts to ban books in Ottawa County. She interviewed teachers and administrators to understand the impact on educators of the current efforts to ban books. She will be presenting her findings at the Annual Convention of the National Council of Teachers of English this fall and publishing the book chapter "Classroom Curriculum, Critical Texts and Cries for Censorship: The Attack on Educators in One West Michigan Community."
As she looks forward to her role as MCTE's vice president, Hoeve says, 
I believe that professional organizations like MCTE play a critical role in advocating for and contributing to the future generation of teachers; therefore, leadership must listen and adapt to ever evolving contexts, create spaces for meaningful dialogue, and enable individuals and communities to work towards a common goal of enriching student learning. This work is challenging and complex, and I recognize that there is no one single solution or approach to building a strong organization. In a leadership role, I would seek inspiration in scholarly and authentic approaches to practice that are meaningful to me, and most importantly, to those teachers and professors with whom I work with and serve on a daily basis.
Hoeve's term as vice president begins on July 1, 2023 and continues for the next four years as she enters the presidential cycle. She will serve as vice president, president-elect, president, and then past-president for MCTE. We welcome Dr. Hoeve to the MCTE Executive Board and look forward to working with her over the coming years.