The MCTE, in association with the Michigan Youth Arts Creative Writing Program, recognizes Creative Writing teachers at the high school level each year with the Touchstone Award. Winners of this award are "advocates in arts education who endow Michigan's children with a lifelong capacity for innovation" and have "a record of advocacy for arts programs, dedication to bringing out the very best in their students, and a continued commitment to artistic excellence."
Kathleen "Kitty" Reifert has been teaching at L'Anse Creuse High School-North in Macomb, MI, since 2008, where she currently teaches Creative Writing and AP English Literature and Composition. During her time at LCN, she has served as a teacher leader of the English Department. Her students have been published in the Michigan Reading Association's Kaleidoscope, received numerous placements in the Clinton Township Optimist Club Essay Contest, and been honored as recipients of LCN's English Student of the Year Award. Prior to that, Kitty taught American Literature, Philosophy, Poetry, Fiction, and Yearbook at Cardinal Mooney Catholic High School in Marine City, MI from 2000-2008. She earned her Bachelor of Arts in English from University of Detroit and Masters in Curriculum & Instruction, magna cum laude, from University of Detroit Mercy. While earning her Masters, she received the Joan K. Wilder Graduate Studies Award for the best education graduate student project demonstrating scholarship in content and form, creativity in approach and/or insight.
Kitty has been married to her husband Kurt Reifert for 37 years, is mother to Elizabeth and Shane, and "Mimi" to granddaughter Ellis. She is forever grateful for the love and support of her family and friends.
Congratulations, Kitty, and thank you for your commitment to encouraging students to write and publish their creative pieces!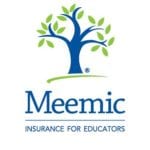 Meemic Insurance is a proud sponsor of the Touchstone Awards.